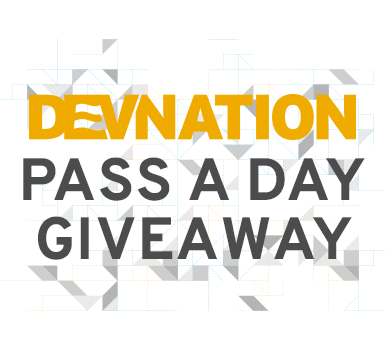 Terms and Conditions
Official Rules, Acceptable Use Policy and Entry for RED HAT DEVELOPER PROGRAM DEVNATION 2016 DAILY TICKET GIVEAWAY CONTEST:
THE RED HAT DEVELOPER PROGRAM DEVNATION 2016 DAILY TICKET GIVEAWAY CONTEST OFFICIAL RULES
THE RED HAT DEVELOPER PROGRAM DEVNATION 2016 DAILY TICKET GIVEAWAY CONTEST (the "Contest") begins June 1st at 12:00 a.m. Pacific Time ("PT") and ends June 24, 2016 at 11:59 p.m. PT ("Contest Period"). The Contest is sponsored by Red Hat, Inc. ("Sponsor" or "Red Hat"). Red Hat invites individuals to join the Red Hat Developer Program for free at https://developer.redhat.com/register during the "ENTRY PERIOD" to be eligible for entry in to the "Contest" per the eligibility rules below. The following time periods apply to the Contest: "ENTRY PERIOD": June 1, 2016 at 12:00 a.m. to June 24, 2016 at 11:59 p.m.
1. ELIGIBILITY. The Contest is open to individuals ("Contestant" or "you ") who: (1) are at least 18 years of age as of the Contest start date and (2) work or have worked within a professional organization that uses technology . Employees and vendors or contractors of Red Hat, Inc., and its parents, subsidiaries, agents, promotion partners, and affiliates (collectively, the "Contest Entities"), and their respective immediate families and household members are not eligible to participate. Employees and vendors or contractors of governments, government-affiliated companies or organizations are not eligible to participate. Residents of the province of Quebec in Canada, Cuba, Italy, Iran, Syria, North Korea, Myanmar (formerly Burma) and Sudan are not eligible to participate. The Contest is void in these countries and where otherwise prohibited or restricted by law. Sponsor reserves the right to limit, or restrict upon notice, participation in the Contest to any person at any time for any reason at its sole discretion.
2. HOW TO ENTER. Online submissions only. Register for the Red Hat Developers Community at https://developer.redhat.com/register ("Register") during the ("entry period"). Entries not meeting the requirements as set forth in these Official Rules, as determined by Sponsor in its sole discretion, will not be eligible and will be disqualified. All Entries suspected by Sponsor in its sole discretion of violating the proprietary rights of any third party (including intellectual property rights and rights of privacy/publicity), or any local, state or federal law(s) will be disqualified. This Contest is governed by these Official Rules as well as the www.redhat.com website Terms and Conditions and the Contest Site Acceptable Use Policy, both of which are incorporated by reference.
IMPORTANT: You must complete the following steps in order to ensure your Entry is submitted into the Contest:
Step One - Registration: Go to https://developer.redhat.com/register section of website designated "Register for an account by filling out this form" ("Contest Site") and complete the registration form, providing all information requested. If participating in this contents and filling our this form you are agreeing to these Official Rules.
Step Two – Submit: Once you click the "Register" button, you should see a page that confirms your registration. Please note that at this point your Registration is undergoing review, and may not yet be considered a valid Entry into the Contest. The Sponsor's clock is the official time keeping device for this Contest. Submissions must be received by the date and time listed above to qualify. No hand, mail, telephone or e-mail deliveries will be accepted.
CONDITIONS OF ENTRY. By registering for the Red Hat Developers Community, Contestant irrevocably grants Sponsor and its affiliates, legal representatives, assignees, agents and licensees, the unconditional and perpetual right and permission, royalty-free, to reproduce, encode, store, copy, transmit, publish, post, broadcast, display, publicly perform, adapt, exhibit and/or otherwise use or reuse (without limitation as to when or to the number of times used), to use Contestant's Likeness, and/or statements regarding his/her participation in this Contest (with or without using the Contestant's name) in any and all media without limitation as to time or territory, and without additional compensation or approval from the Contestant or any other party. Contestant waives intellectual property rights, privacy/publicity rights or other legal or moral rights that might preclude the Sponsor's use of the Submission, and agrees not to sue or assert any claim against the Sponsor for the use of the Submission or Contestant's Likeness or statements. Contestant agrees to indemnify and hold Sponsor, its agencies and Contest Entities and their respective affiliates, officers, directors, agents, co-branders or other partners, and any of their employees (collectively, the "Indemnities"), harmless from any and all claims, damages, expenses, costs (including reasonable attorneys' fees) and liabilities (including settlements), brought or asserted by any third party against any of the Indemnities due to or arising out of the Contestant's Submission, or the Contestant's conduct in creating a Submission or otherwise in connection with this Contest, including but not limited to claims for trademark infringement, copyright infringement; violation of an individual's right of publicity or right of privacy; or defamation. Contestant further agrees to release Sponsor from any and all claims that any advertising subsequently produced, presented, and/or prepared by or on behalf of Sponsor infringes Contestant's rights with regard to any elements, characters or ideas contained in any Submission.
RANDOM DRAWINGS AND NOTIFICATION. Each weekday, within 24 hours of close of day, and each weekend day, within 48 hours of close of day, a random drawing will be conducted of all eligible entries.. For each complete day within the contest period (1) one winner will be chosen at random. Sponsor may conduct additional rounds of random drawings, at it's own discretion.
NOTIFICATION OF SELECTED CONTESTANT. Each Selected Contestant or Alternate Selected Contestant will be required to respond (as directed) to the phone and/or e-mail notification within ten (5) calendar days of attempted notification to claim his/her prize. The failure to respond in a timely manner to the notification may result in forfeiture of the prize; and, in such case, Sponsor may choose the next Qualifying Submission from among the remaining eligible submissions. The Selected Contestant or Alternate Selected Contestant will also be sent an affidavit of eligibility / liability / publicity release ("Release"). Unless restricted by law, Selected Contestant will be required to complete and return the Release within the time period specified therein, as well as any additional Publicity Releases or other documentation required by Sponsor. Should Selected Contestant or Alternate Selected Contestant be unwilling or otherwise unable to provide such permissions and or releases or otherwise cannot accept or receive the prize for any reason, an alternate Contestant may be chosen from the remaining entries until one who is able to meet all requirements can be selected. Each Selected Contestant's full name, company, and hometown may be announced and posted on www.redhat.com and any Contest affiliated web sites.
PRIZE The following prize will be awarded: During the contest period, one (1) Selected Contestant each day will receive a "Full Conference Pass to attend DevNation 2016 located in San Francisco, CA.". Each selected winner will receive a "DevNation Full Conference Pass" to the 2016 DevNation Conference taking place from June 26 – 29 at Moscone Center, San Francisco, CA. Each pass is good for entry during normal conference hours to the DevNation Conference for 2016 in San Francisco and does NOT include airfare, lodging, transportation, food, beverages, entry to Red Hat Summit 2016, Summit Plus, Red Hat extensive onsite training, Certification exams or Power Training courses. The value of the DevNation Conference Pass is $750. Total of all prizes: US approximate value $750 each, with a total retail value of $24,000 for all prizes awarded. All prizes are stated in U.S. currency and prizes will be awarded in US currency. Prizes will be awarded in the form of a ticket for the selected winners. No substitution or transfer of prize. If Selected Contestant is unable to participate in or accept the prize or any portion of the prize for any reason, Sponsor shall have no further obligation to the Contestant. In no event will Sponsor be responsible for awarding more than the stated number of prizes.
CONTEST CONDITIONS. This Contest is void in the province of Quebec in Canada, Cuba, Italy, Iran, Syria, North Korea, Myanmar (formerly Burma) and Sudan, and where prohibited or restricted by law, and is subject to applicable federal, state, and local laws. By participating, Contestants agree: (i) to be bound by these Official Rules and the decisions of Sponsor, which shall be final and binding; and (ii) to waive any right to claim ambiguity in the Contest or these Official Rules, except where prohibited by law. Taxes, if any, are the sole responsibility of Selected Contestant, and Contestants may be issued tax documentation (such as an IRS Form 1099) for any awarded prize. By participating, all Contestants agree to release and hold harmless each of the Contest Entities together with the respective directors, employees, officers, licensees, licensors and agents, and respective advertising and promotion entities and any person or entity associated with the production, judging, or administration of the Contest, (collectively, the "Released Parties") from and against any and all rights, claims and causes of action whatsoever that they may have, or which may arise, against any of them for any liability for any matter, cause or thing whatsoever, including but not limited to any injury, loss, damage, whether direct, compensatory, incidental or consequential, to person, including death and property, arising in whole or in part, directly or indirectly, from their acceptance, possession, use or misuse of the prize in the Contest, or their participation in the Contest, or their participation in any Contest or prize related activity. Each Selected Contestant acknowledges that Released Parties have neither made, nor are in any manner responsible or liable for, any warranty, representation or guarantee, expressed or implied, in fact or in law, relative to any prize or the Contest. All warranties are hereby disclaimed, and each Selected Contestant will accept the prize "as is". Sponsor reserves the right to disqualify any Contestant it finds to be violating these Official Rules. Sponsor reserves the right to cancel or suspend the Contest in whole or in part, in its sole discretion, should it receive fewer than 50 entries or due to circumstances beyond its control, including natural disasters. Sponsor may, in its sole discretion, cancel, modify or suspend the Contest should a virus, bug, computer problem, unauthorized intervention or other causes beyond Sponsor's control, corrupt the administration, security or proper play of the Contest. Sponsor may prohibit a Contestant from participating in the Contest or winning a prize if, in its sole discretion, it determines such Contestant is attempting to undermine the legitimate operation of the Contest by cheating, plagiarizing, engaging in any deception, or any other unfair playing practices of intending to annoy, abuse, threaten, undermine or harass any other players or Sponsor representatives. Disputes regarding these Official Rules and/or this Contest will be governed by the internal laws of the State of California. CAUTION: ANY ATTEMPT TO DELIBERATELY DAMAGE OR UNDERMINE THE LEGITIMATE OPERATION OF THE CONTEST MAY BE IN VIOLATION OF CRIMINAL AND CIVIL LAWS AND WILL RESULT IN DISQUALIFICATION FROM PARTICIPATION IN THE CONTEST. SHOULD SUCH AN ATTEMPT BE MADE, SPONSOR RESERVES THE RIGHT TO SEEK REMEDIES AND DAMAGES (INCLUDING ATTORNEY FEES) TO THE FULLEST EXTENT OF THE LAW, INCLUDING CRIMINAL PROSECUTION. Released Parties shall not be liable to the Selected Contestants for failure to supply any Prize or any part thereof, by reason of any acts of God, any action(s), regulation(s), order(s) or request(s) by any governmental or quasi-governmental entity (whether or not the action(s), regulation(s), order(s) or request(s) prove(s) to be invalid), equipment failure, threatened terrorist acts, terrorist acts, air raid, blackout, act of public enemy, earthquake, war (declared or undeclared), fire, flood, epidemic, explosion, unusually severe weather, hurricane, embargo, labor dispute or strike (whether legal or illegal), labor or material shortage, transportation interruption of any kind, work slow-down, civil disturbance, insurrection, riot, or any other similar or dissimilar cause beyond any of the Released Parties' control. None of the Contest Entities are responsible for: (a) lost, late, misdirected, undeliverable, incomplete or indecipherable entries due to system errors or failures, or faulty transmissions or other telecommunications malfunctions and/or entries; (b) technical failures of any kinds; (c) failures of any of the equipment or programming associated with or utilized in the Contest; (d) unauthorized human and/or mechanical intervention in any part of the submission process or the Contest; or (e) technical or human error which may occur in the administration of the Contest or the processing of entries.
PUBLICITY. Each Contestant understands and agrees: (1) that all or part of Contestant's Submission may potentially be posted or published by any of the Contest Entities for purposes of promoting the Contest, with or without credit to Contestant's name; and (2) that each Selected Contestant's name, likeness and hometown may be used by any of the Contest Entities for publicity purposes in connection with the Contest.
PRIVACY. All personal information collected directly by Sponsor will be used for administration of the Contest and in accordance with Sponsor's privacy policy. Please refer to Sponsor's privacy policy located at http://www.redhat.com/en/about/privacy-policy for important information regarding the collection, use and disclosure of personal information by Sponsor.
OFFICIAL RULES AND WINNERS' LIST. For a copy of these Official Rules or the names of Selected Contestants, send your specific request by checking the contest site https://developer.redhat.com after July 5, 2016 for a list of Selected Contestant's names and their hometown/state/country of residence.
RED HAT DEVELOPER PROGRAM DEVNATION 2016 CONTEST ACCEPTABLE USE POLICY
PLEASE READ THIS REDHAT DEVELOPER COMMUNITY DEVNATION 2016 CONTEST ACCEPTABLE USE POLICY (the "Agreement"). SUBMITTING YOUR ENTRY OR PARTICIPATING IN THE CONTEST ACTIVITIES ON THE REGISTRATION PAGE CONSTITUTES YOUR ACCEPTANCE OF THIS AGREEMENT. BY PARTICIPATING IN THE CONTEST AND/OR PROVIDING CONTENT YOU ARE BINDING YOURSELF ("YOU" OR "USER") TO THIS AGREEMENT WITH RED HAT, INC ("WE" OR "RED HAT"). IF YOU DO NOT ACCEPT ALL OR ANY PART OF THIS AGREEMENT, DO NOT PRESS SUBMIT OR UPLOAD ANY CONTENT OR ACCESS THE WEBSITE.
Background. The Red Hat Developer Program Web Site (the "Site") is a web site developed by or for Red Hat, Inc ("Red Hat"). The Site enables users to register for participation in the Red Hat Developer Program.

Rules and Regulations. This Agreement sets forth the legally binding terms for the Site and the Services. This Agreement covers all of your visits to the Site and any use of the Services. If you stop visiting the Site or stop using the Services, this Agreement remains in effect.

Amendments/Other Terms. Red Hat may elect to change or supplement the terms of this Agreement from time to time at its sole discretion. Red Hat will exercise commercially reasonable efforts to provide notice to you of any material changes to the Agreement. Within three (3) business days of posting changes to the Agreement, they will be binding upon you. If you do not agree with the changes, you should discontinue using the Site or any Services. If you continue using the Site or Services after such three-business-day period, you will have accepted the changes to the terms of this Agreement. Users participating in the Red Hat Developer Program DEVNATION 2016 Contest will be asked to accept the Contest Official Rules as a condition to entering the contest. Unless expressly set forth in such official rules, those additional terms are hereby incorporated into this Agreement and in the event of a conflict between such official rules and this Agreement, the official rules shall govern.

Posting Content. Much of the information on the Site is posted by Users. Please choose carefully the information you post. You are solely responsible for what you post. The following is a partial list of what you are prohibited from posting:

Anything unlawful, libelous, threatening, obscene, discriminatory or otherwise objectionable in Red Hat's sole discretion;

Content or images containing nudity, or materials that may be considered obscene, lewd, excessively violent, harassing, explicit or otherwise objectionable;

Information prohibited from disclosure under any law or under contractual or fiduciary relationships (such as insider information, or proprietary and confidential information learned or disclosed as part of employment relationships or under nondisclosure agreements);

Content that infringes the copyright, trademark, patent, trade secret or other intellectual property rights of anyone;

Any information or data that misrepresents the identity, characteristics or qualifications of you or any other person, including but not limited to the use of a pseudonym, or misrepresenting current or previous positions, qualifications or affiliations with a person or entity, past or present;

Any unsolicited or unauthorized advertising, promotional materials, "spam," "chain letters," "pyramid schemes" or any similar form of solicitation. This prohibition includes but is not limited to a) using invitations to send messages to people who don't know you or who are unlikely to recognize you as a known contact; b) using the Services to connect to people who don't know you and then sending unsolicited promotional messages to those direct connections without their permission; and c) sending messages to distribution lists, newsgroup aliases, or group aliases for purposes of spamming;

Any virus, malware or other harmful code;

Anything that disrupts or interferes with the Services

Any other content that, in Red Hat's sole discretion, undermines the purpose of the Site or otherwise reflects unfavorably upon Red Hat, its partners, affiliates or customers. Be advised that other Users may violate one or more of the above prohibitions, but Red Hat assumes no responsibility or liability. If you become aware of misuse of the Site or Services by any person, please contact Red Hat. Red Hat may investigate any complaints and violations that come to our attention and may take any action that we believe is appropriate, including, but not limited to issuing warnings, or removing the. However, because situations and interpretations vary, we also reserve the right not to take any action. Under no circumstances will Red Hat be liable in any way for any data or other content on the Site, including, but not limited to, any errors or omissions in any such data or content, or any loss or damage of any kind incurred as a result of the use of, access to, or denial of access to any data or content on the Site. If at any time you are not happy with the Site or the Services or object to any material on the Site, your sole remedy is to cease using the Site or the Services.

Monitoring. Nothing in this Agreement shall require Red Hat to monitor or edit the Site for objectionable or infringing materials. If at any time Red Hat chooses, in its sole discretion, to monitor or edit the Site, Red Hat nonetheless assumes no responsibility for anything submitted by Users, no obligation to modify or remove any inappropriate materials or information and no responsibility for the conduct of any User. Red Hat does not endorse and has no control over what Users post or submit to the Site. Red Hat reserves the right, in its sole discretion, to reject, refuse to post or remove any Content, posting or other data, or to restrict, suspend, or terminate any User's access to all or any part of the Site or Services at any time, for any or no reason, with or without prior notice, and without liability. You agree that Red Hat has no liability whatsoever if Red Hat refuses to post your submissions or edits, restricts or removes your submissions.

Laws and Reporting. You may not use the Site or Services in any manner inconsistent with applicable law or for any illegal purpose, including but not limited to conspiring to violate laws or regulations. Recognizing the global nature of the Internet, you also agree to comply with applicable local rules or codes of conduct (including codes imposed by your employer) regarding online behavior and acceptable content. Additionally, you agree to comply with applicable laws regarding the transmission of technical data exported from the United States or the country in which you reside. Red Hat reserves the right to investigate and take appropriate action against anyone who, in Red Hat's sole discretion, is suspected of violating this provision, including without limitation, reporting you to law enforcement authorities. Use of the Services is void where prohibited.

Eligibility. The Site and the Services are not available to minors under the age of 18 or to any users suspended or removed from the system by Red Hat for any reason.

Competitive Use. You may not use the Site or the Services to advertise, promote, endorse or market, directly or indirectly, any products, services, solutions or other technologies that, in Red Hat's sole and absolute discretion, compete with the products, services, solutions or technologies of Red Hat.

Ownership /Licenses

Red Hat does not claim any ownership rights in any text, files, images, photos, video, sounds, works of authorship or other materials that Users upload to the Site or transmit via the Services ("User Content" or your "Content"). However, by uploading Content to the Site, transmitting Content using the Services or otherwise providing Content to Red Hat, you grant to Red Hat a world-wide, royalty-free, sublicensable (so Red Hat affiliates or contractors can deliver the Services) perpetual, irrevocable license to use, modify, publicly perform, publicly display, reproduce, distribute, publish, and otherwise exploit the Content in any and all media, now known or hereinafter developed without limitation and in any manner, for trade, advertising, promotional, commercial or any other purposes without further review, notice, approval, consideration, or compensation. Users hereby waive any moral rights with respect to Red Hat's exploitation of Content without further notification or compensation of any kind. Red Hat, its affiliates, licensees, successors and assignees are in no way obligated to use or continue to use your Content (and have no obligation to you or any other person or entity after your Content is received). You agree to waive all claims to and shall receive no royalties of any kind now or in the future from Red Hat, its affiliates, licensees, successors and assigns for use of your Content including but not limited to copyright, trademark, public performance, digital sound recording, mechanical, synchronization or master use royalties, and you represent, warrant and agree that no other party is entitled to claim royalties from the use of the Content as set forth in this Agreement. Red Hat will treat any User Content as non-confidential and public. Please do not submit confidential or private information. You also agree that any other User of this Site may access, view, store or reproduce your Content for such User's personal use or otherwise in connection with use of the Site and/or Services.

The Site and the Services also contain content owned by or licensed to Red Hat ("Red Hat Content"). Red Hat owns and retains all rights to the Red Hat Content and the Services, including all intellectual property rights. Red Hat hereby grants you a limited, revocable, non-sublicensable license to reproduce and display the Red Hat Content (excluding any software code) solely for your personal use to view the Site and otherwise as necessary to use the Services. Except as set forth above, nothing contained in this Agreement shall be construed as conferring by implication, estoppel or otherwise any license or right under any trade secret, patent, trademark, copyright or other intellectual property right of Red Hat or any third party. All licenses not expressly granted by Red Hat are reserved.

Copyright. You may not post, modify, distribute, or reproduce in any way copyrighted material, trademarks, rights of publicity or other proprietary rights without obtaining the prior written consent of the owner of such proprietary rights. Red Hat may deny access to the Site or the Services to any User who is alleged to infringe another party's copyright. Without limiting the foregoing, if you believe that your copyright has been infringed, please provide our Copyright Agent with the following information: (i) an electronic or physical signature of the person authorized to act on behalf of the owner of the copyright interest; (ii) a description of the copyrighted work that you claim has been infringed; (iii) a description of where the material that you claim is infringing is located on the Services; (iv) your address, telephone number, and email address; (v) a written statement by you that you have a good faith belief that the disputed use is not authorized by the copyright owner, its agent, or the law; (vi) a statement by you, made under penalty of perjury, that the above information in your notice is accurate and that you are the copyright owner or authorized to act on the copyright owner's behalf. Red Hat's Copyright Agent for notice of claims of copyright infringement can be reached as follows: Copyright Agent, Red Hat, Inc., 100 E. Davie Street, Raleigh, NC 27601; Attn: Copyright Agent.

User Disputes. You are solely responsible for your interactions with other Users. Red Hat reserves the right, but has no obligation, to monitor disputes between you and other Users.

Privacy. Use of the Site and Services is also subject to our Privacy Statement, located at http://www.redhat.com/en/about/privacy-policy which is incorporated into this Agreement by this reference. Additionally, you understand and agree that Red Hat may contact you via e-mail or otherwise with information relevant to your use of the Site or Services. You also agree to have your name and/or email address listed in the header of certain communications you initiate through the Services.

Additional Disclaimers.

Third Party Content. The Site may contain links to other websites. Red Hat is not responsible for any content, messages or information on such websites. Such websites are in no way investigated, monitored or checked by Red Hat. Inclusion of any linked website on the Services does not imply approval or endorsement of the linked website by Red Hat. When you access these third-party sites, you do so at your own risk. Red Hat takes no responsibility for third party advertisements which may be posted on the Site or through the Services, nor does it take any responsibility for the goods or services provided by any advertisers.

Technical Errors. Red Hat assumes no responsibility for any error, omission, interruption, deletion, defect, delay in operation or transmission, communications line failure, theft or destruction or unauthorized access to, or alteration of any User communication. Red Hat is not responsible for any problems or technical malfunction of any telephone network or lines, computer online systems, servers or providers, computer equipment, software, failure of any email due to technical problems or traffic congestion on the Internet or on any of the Services or combination thereof, including any injury or damage to Users or to any person's computer related to or resulting from using the Site or the Services.

"AS IS." TO THE FULLEST EXTENT PERMISSIBLE UNDER LAW, RED HAT SHALL HAVE NO RESPONSIBILITY FOR ANY LOSS OR DAMAGE RESULTING FROM USE OF THE SITE, THE SERVICES, FROM ANY USER CONTENT POSTED ON OR THROUGH THE SERVICES, OR FROM THE CONDUCT OF ANY USERS, WHETHER ONLINE OR OFFLINE. THE SITE AND SERVICES ARE PROVIDED ON AN "AS-IS" AND "AS AVAILABLE" BASIS, WITH ALL FAULTS, AND RED HAT EXPRESSLY DISCLAIMS ANY WARRANTY OF MERCHANTABILITY, FITNESS FOR A PARTICULAR PURPOSE OR NON-INFRINGEMENT. RED HAT DOES NOT ASSUME ANY RESPONSIBILITY FOR RETENTION OF ANY USER INFORMATION OR COMMUNICATIONS BETWEEN USERS. RED HAT CANNOT GUARANTEE AND DOES NOT PROMISE ANY SPECIFIC RESULTS FROM USE OF THE SITE OR THE SERVICES. USE IS AT YOUR OWN RISK.

Indemnity. You agree to defend, indemnify and hold Red Hat, its subsidiaries, and affiliates, and their respective officers, agents, partners and employees, harmless from any loss, liability, claim, or demand, including reasonable attorneys' fees, made by party arising out of or related to: (i) your use of the Services or the Site; (ii) your breach of this Agreement; or (iii) your Content.

Limitation on Liability. EXCEPT WHERE PROHIBITED BY LAW, IN NO EVENT SHALL RED HAT BE LIABLE FOR ANY INDIRECT, CONSEQUENTIAL, EXEMPLARY, INCIDENTAL, SPECIAL OR PUNITIVE DAMAGES, INCLUDING BUT NOT LIMITED TO LOST PROFIT DAMAGES, COSTS OF REPLACEMENT GOODS OR LOSS OF OR DAMAGE TO DATA ARISING OUT OF THE USE OR INABILITY TO USE THE SITE OR SERVICES, EVEN IF RED HAT HAS BEEN ADVISED OF THE POSSIBILITY OF SUCH DAMAGES. NOTWITHSTANDING ANYTHING TO THE CONTRARY CONTAINED HEREIN, RED HAT'S LIABILITY TO YOU FOR ANY CAUSE(S) WHATSOEVER AND REGARDLESS OF THE FORM OF THE ACTION, WILL AT ALL TIMES BE LIMITED TO ONE THOUSAND DOLLARS (USD $1,000.00). THIS LIMITATION OF LIABILITY IS CUMULATIVE AND NOT PER INCIDENT. SOME JURISDICTIONS DO NOT ALLOW THE EXCLUSION OF CERTAIN WARRANTIES OR THE LIMITATION OR EXCLUSION OF LIABILITY FOR CERTAIN KINDS OF DAMAGES. ACCORDINGLY, SOME OF THE ABOVE LIMITATIONS MAY NOT APPLY TO YOU.

Disputes. If there is any dispute about or in any way involving the Site or the Services, you agree that the dispute shall be governed by the laws of the State of North Carolina, USA, without regard to conflict of law provisions and you agree to exclusive personal jurisdiction and venue in the state and federal courts of the United States located in the State of North Carolina, City of Raleigh.

Trademarks. The trademarks, logos and service marks ("Marks") displayed on the Site are the property of Red Hat or other third parties. You acknowledge and agree that you have no rights, title, or interest in or to the Marks and that you will not adopt, use, or attempt to register the Marks or any confusingly similar mark. Users receive no license to and are not permitted to use these Marks. Please see the complete list of Red Hat Trademarks at http://www.redhat.com/en/about/trademark-guidelines-and-policies .

General. This Agreement constitutes the entire agreement between you and Red Hat regarding the use of the Services and the Site. The failure of Red Hat to exercise or enforce any right or provision of this Agreement shall not operate as a waiver of such right or provision. The section titles in this Agreement are for convenience only and have no legal or contractual effect. This Agreement operates to the fullest extent permissible by law. If any provision of this Agreement is unlawful, void or unenforceable, that provision is deemed severable from this Agreement and does not affect the validity and enforceability of any remaining provisions. The parties are independent contractors under this Agreement and no other relationship is intended, including a partnership, franchise, joint venture, agency, employer/employee, fiduciary, master/servant relationship, or other special relationship. Neither party shall act in a manner which expresses or implies a relationship other than that of independent contractor, nor bind the other party. By using this site, you represent that you are 18 years of age or older and you have read, understood and agree to be bound by the Acceptable Use Policy, Official Rules and any decisions made by the Sponsor.